Regular price
Sale price
$17.99
Unit price
per
Sale
Sold out
AspenClean Dishwasher Pods - Best Eco-friendly Dishwasher Pods as voted by Good Housekeeping - safe for your family & pets. They are unscented, naturally formulated to cut through grease, non-toxic, and packaged in a zero-plastic, compostable container.  You can rely on our Dishwasher Detergent Pods to remove even the toughest dried-on food stains. Our dishwasher pods are EWG Verified™ and free from dyes, chlorine, SLS, & phosphates
Size: 420 g / 14.8 US oz (28 pods)
Product features

Unscented Dishwasher Pods

AspenClean Eco-friendly Dishwasher Pods harness the natural power of oxygen bleach, enzymes, and mineral-based ingredients, leaving your dishes sparkling clean every time you run your dishwasher. Our Waste-Free Dishwasher Pods don't contain ANY synthetic fragrances, chlorine, or phosphates and are packaged in a zero-plastic, 100% recycled paper package designed for convenience while being conscious of the impact on the environment. These Unscented Dishwasher Pods are effective at eliminating dried-on food stains and grease from your dishes, pots, and pans. When you use our plastic-free dishwasher detergent pods, your dishes will be film and water-stain-free - thanks to Chicory Root - without any toxic residue left lingering. At AspenClean, we care about your health and the environment, which is why we've created our unscented dishwasher pods without any environmentally destructive additives. See our entire collection of ecological dish soaps.

• Baby-safe and pet-safe 
• Hypoallergenic 
• Biodegradable, plant-based ingredients 
• 100% zero-plastic packaging 
• Septic tank-safe 
• EcoCert® certified 
• EWG-Verified™ 
• Certified Cruelty-Free by Leaping Bunny 
• Vegan 
• Made in the USA
Directions for use

Unscented Dishwasher Pods

1. Scrape off large food scraps from your dishes. 
2. Ensuring all dishes are dishwasher-safe*, place them in the dishwasher. 
3. Insert one plastic-free dishwasher detergent pod in the main dispenser cup and close the door. Remember: Do not unwrap or puncture the pod. 
4. Run the dishwasher following the manufacturer's instructions, and replace the lid on the package of septic-safe, unscented dishwasher pods.


*Certain materials are not suitable for the dishwasher, like silver, aluminum, brass, copper, antique, or painted porcelain. Please check the manufacturer's recommendation.

*To conserve water, please run your dishwasher with a full load, and choose low water temperatures when you can.

*Store the AspenClean unscented dishwasher pods in a dry place, out of reach of children. Dry your hands before handling the plastic-free dishwasher pods or the container.
Ingredients

Unscented Dishwasher Pods Ingredients:

Sodium Citrate; Sodium Carbonate, Sodium Carbonate Peroxide; Sodium Sulfate; Sodium Silicate, Decyl Glucoside (Coconut, Palm Kernel Oil derived), Subtilisin (Enzyme), Alpha-amylase (Enzyme), Sodium Carboxymethyl Inulin (Chicory Root derived), Water / Eau, Alcohol (Corn derived)**, Sodium Chloride (Salt)

Film: Polyvinyl Alcohol Polymer (water-soluble, biodegradable) 

100% Vegan 99.6% of the total ingredients are from natural origin
Plant-based ingredients are biodegradable
**0.3% of the total ingredients are from organic farming

Proudly made without:

• Plastics 
• Phosphates
• Parabens 
• Ethoxylates and Sulphates (SLS/SLES) 
• Carcinogenic Ingredients (not listed on IARC categories 1, 2A, 2B) 
• Synthetic fragrances 
• Preservatives
• Artificial colors
• Animal ingredients 
• Animal-testing 
• Disposable products 
• Petroleum
Shipping & Returns

Free shipping on all orders over $70.
Unused and unopened products can be returned within 30 days of purchase for a full refund (shipping charges excluded). Contact us before returning the products.
View full details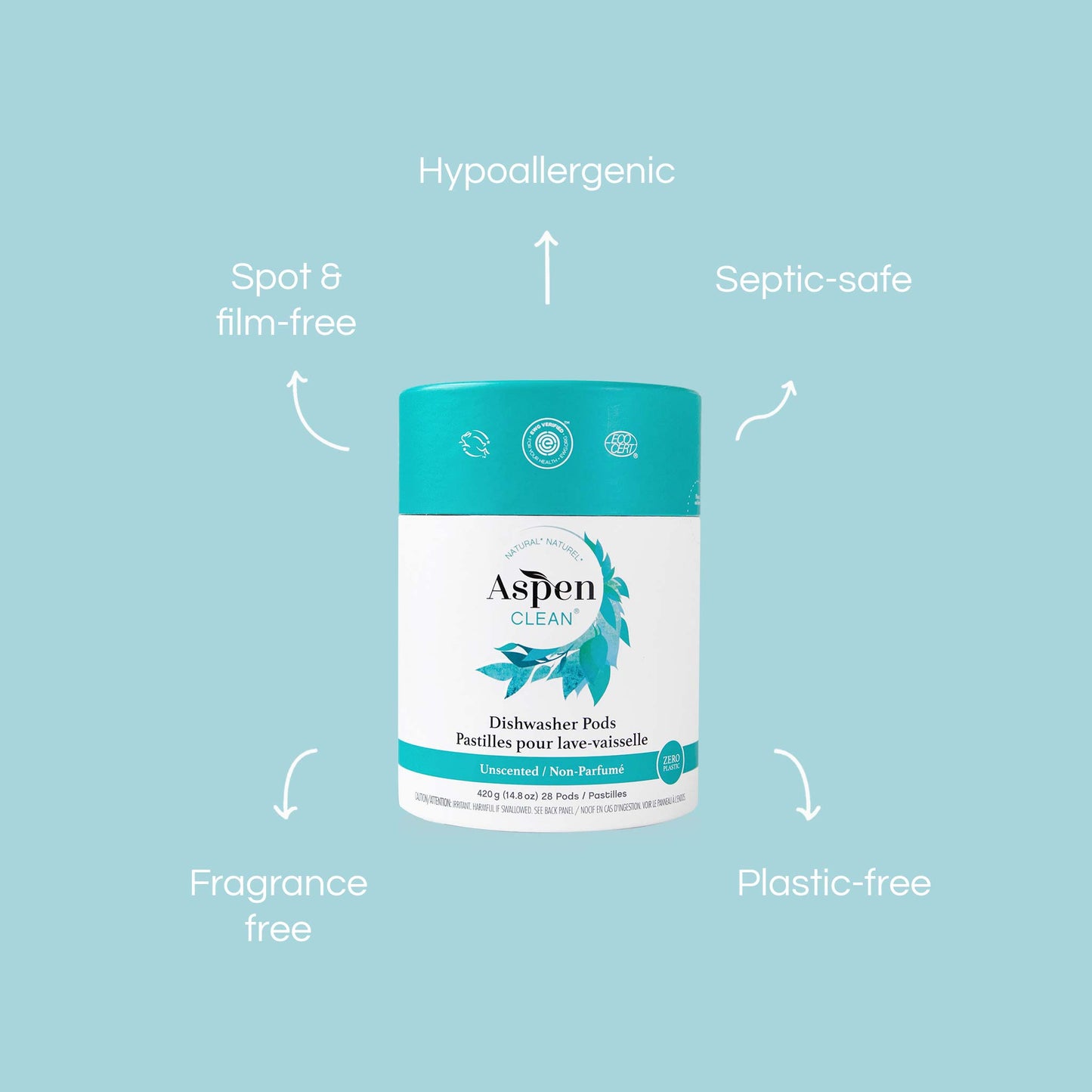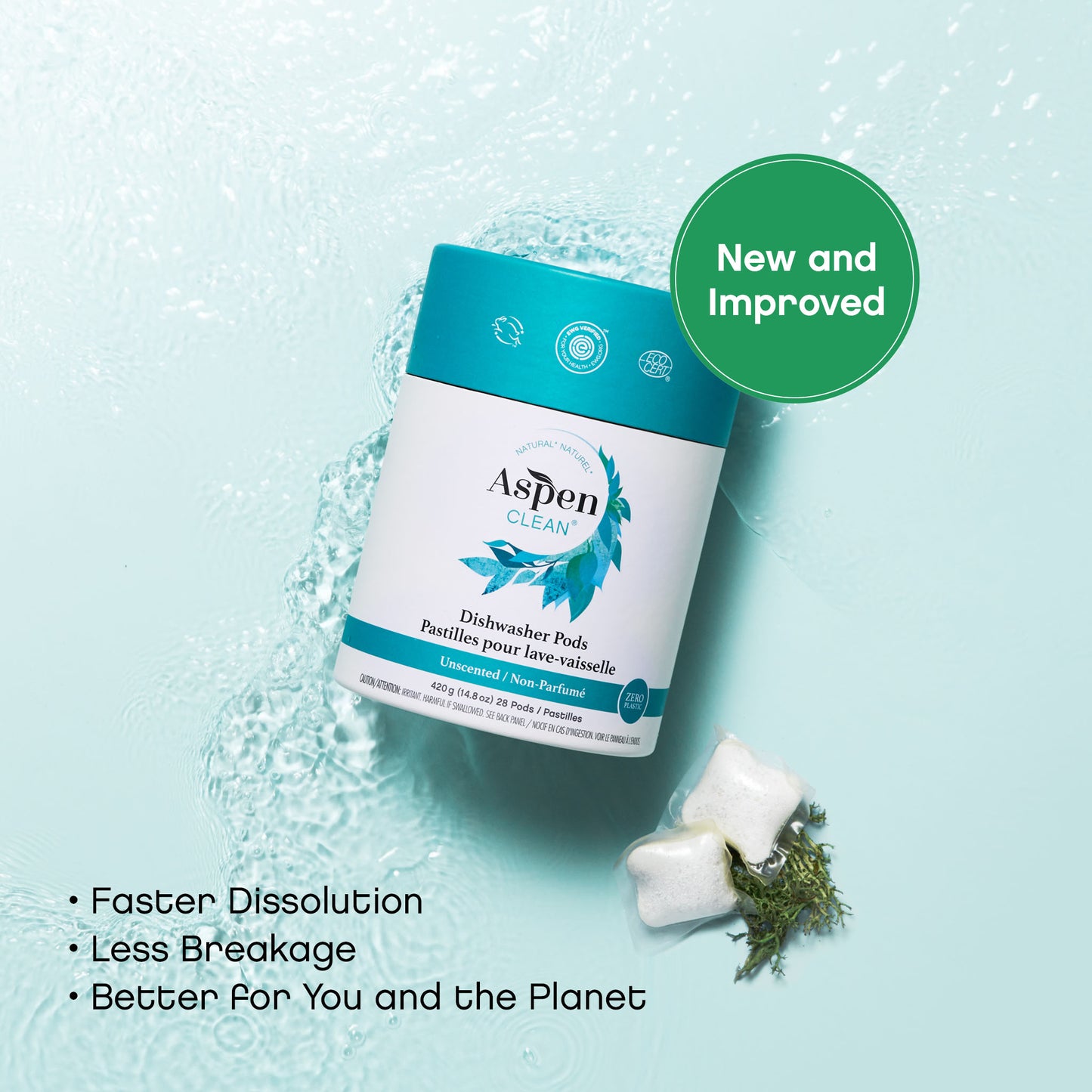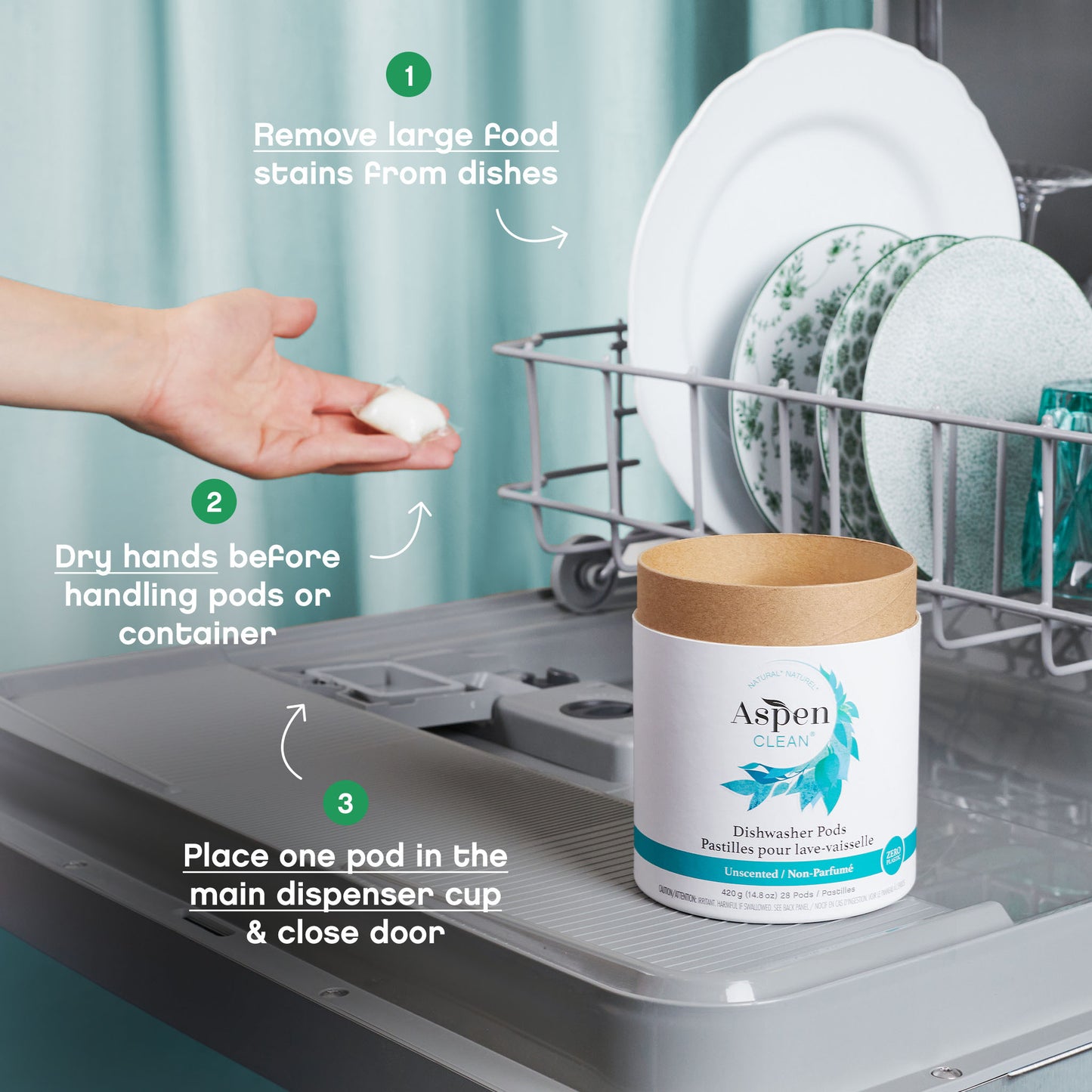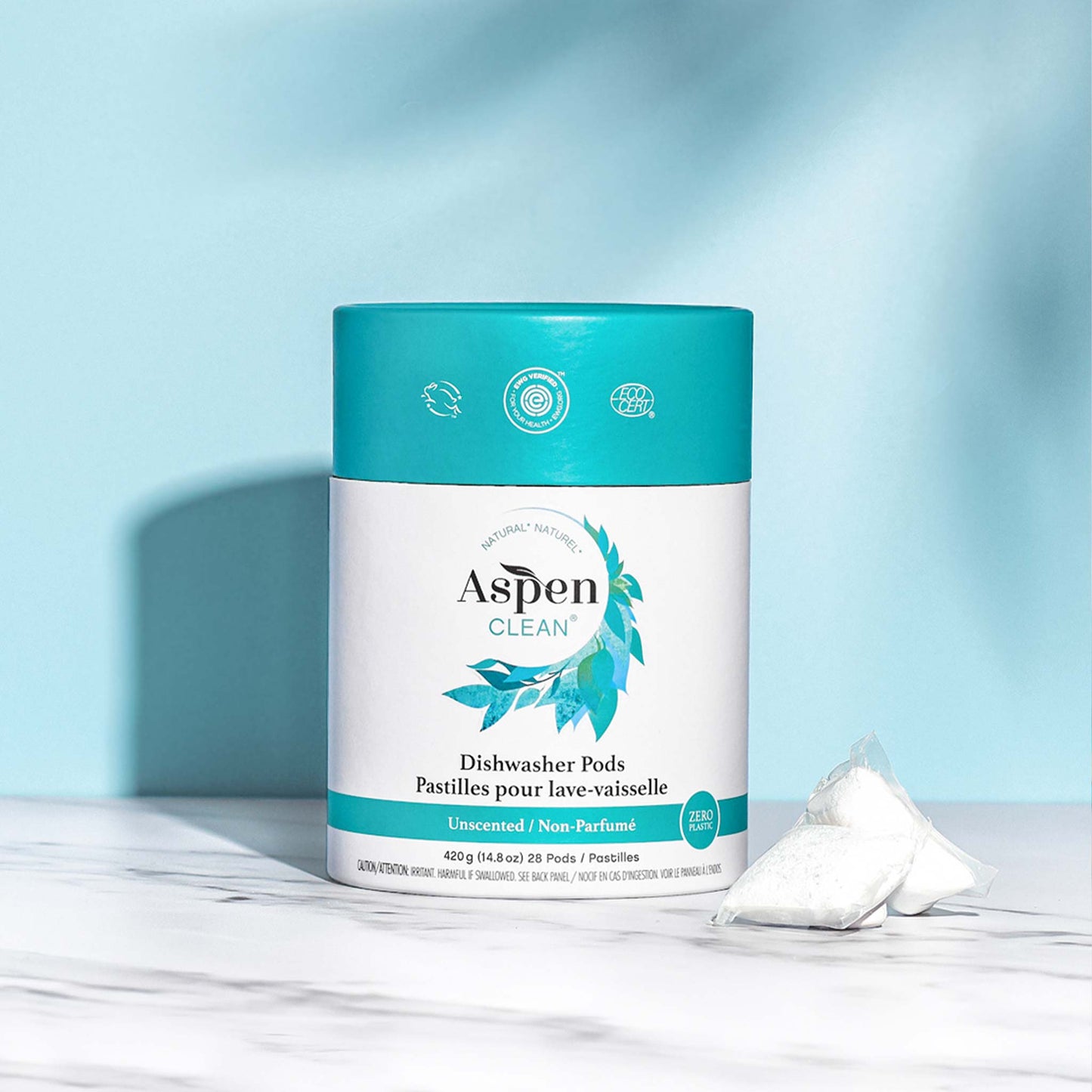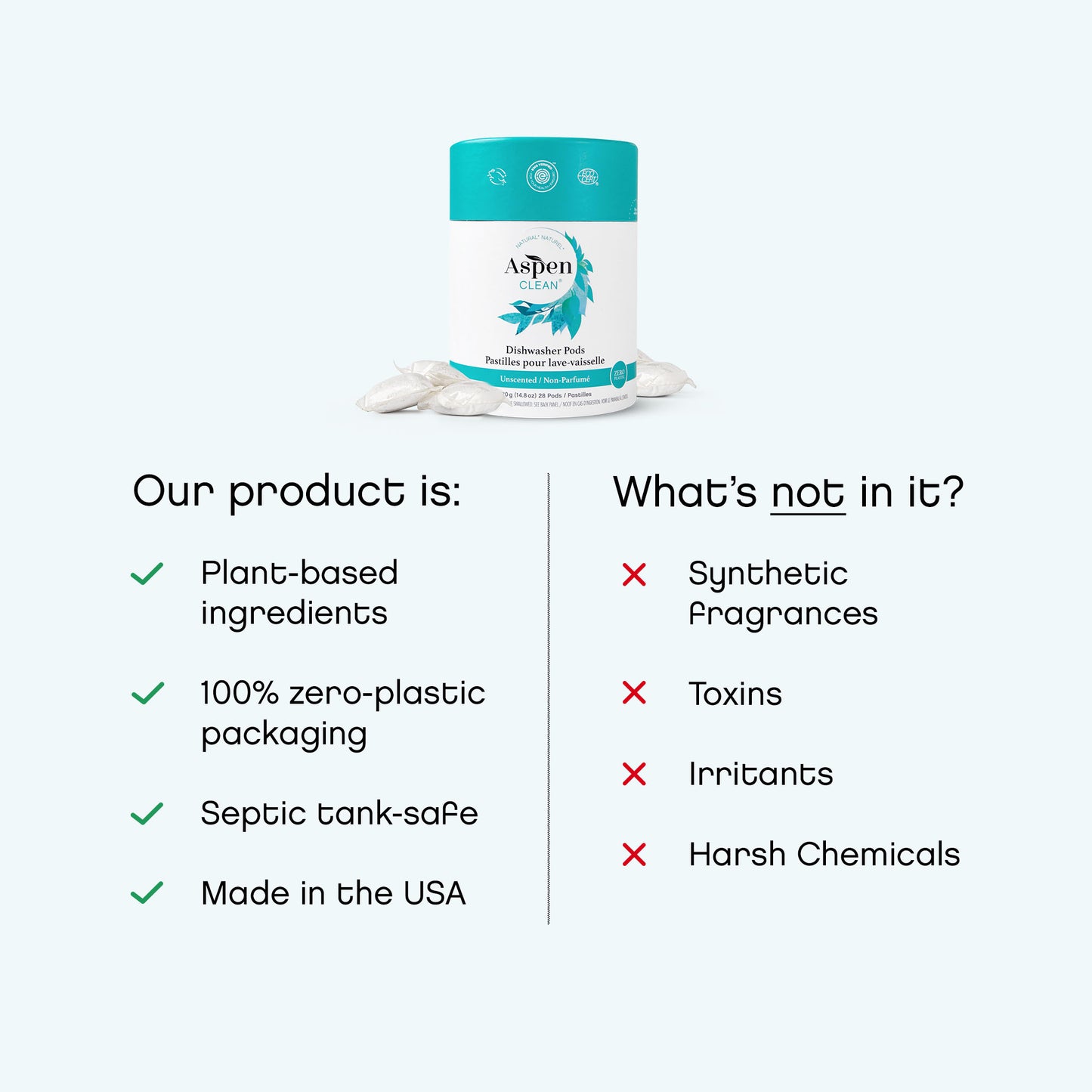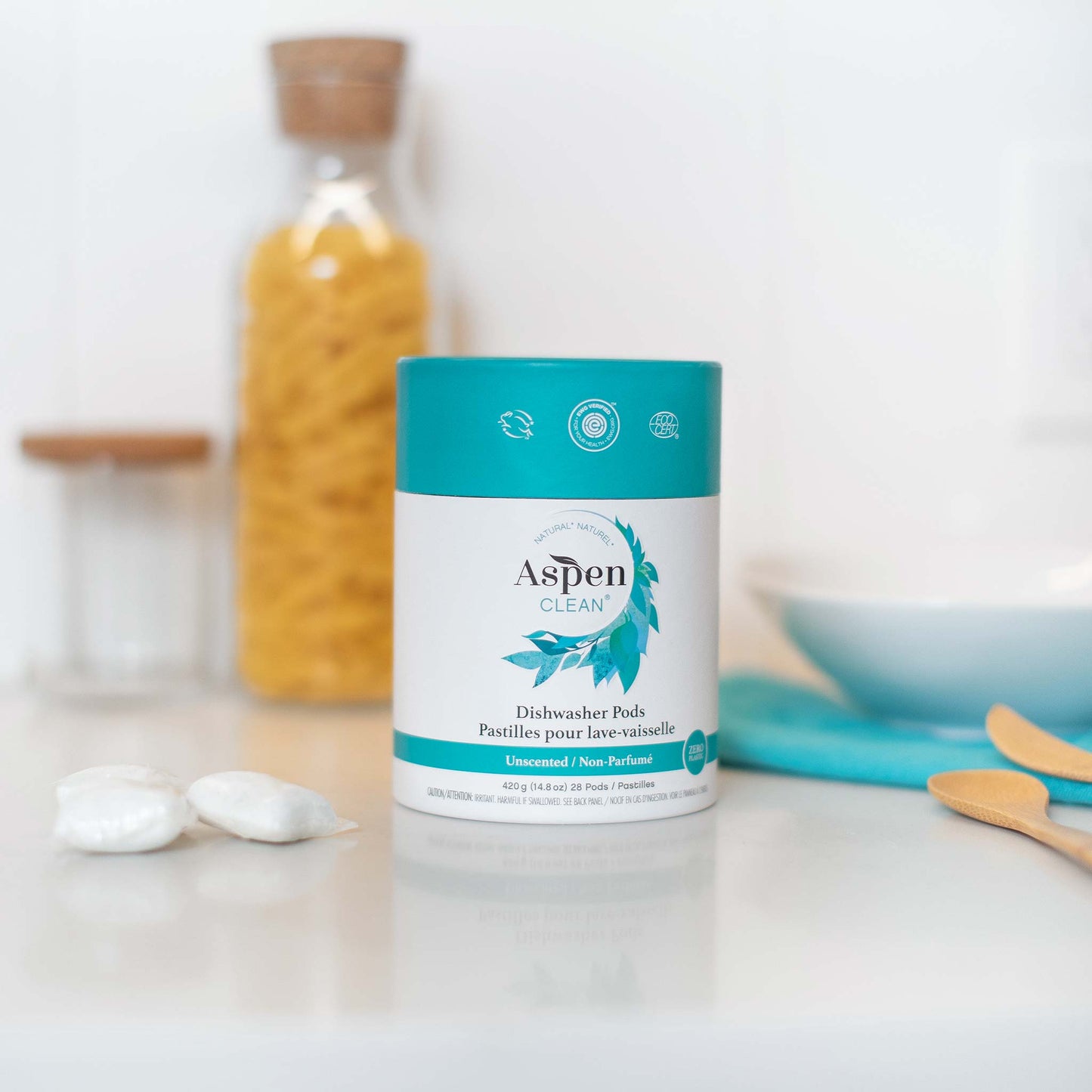 Rethink Clean
POWERFUL & EFFECTIVE

Our products work and deliver the same results as conventional products.

NON-TOXIC & SAFE

Always chemical-free and made with organic, hypoallergenic, and plant-based ingredients.

PLANET FRIENDLY

Biodegradable, recyclable and plastic-free packaging for a better planet.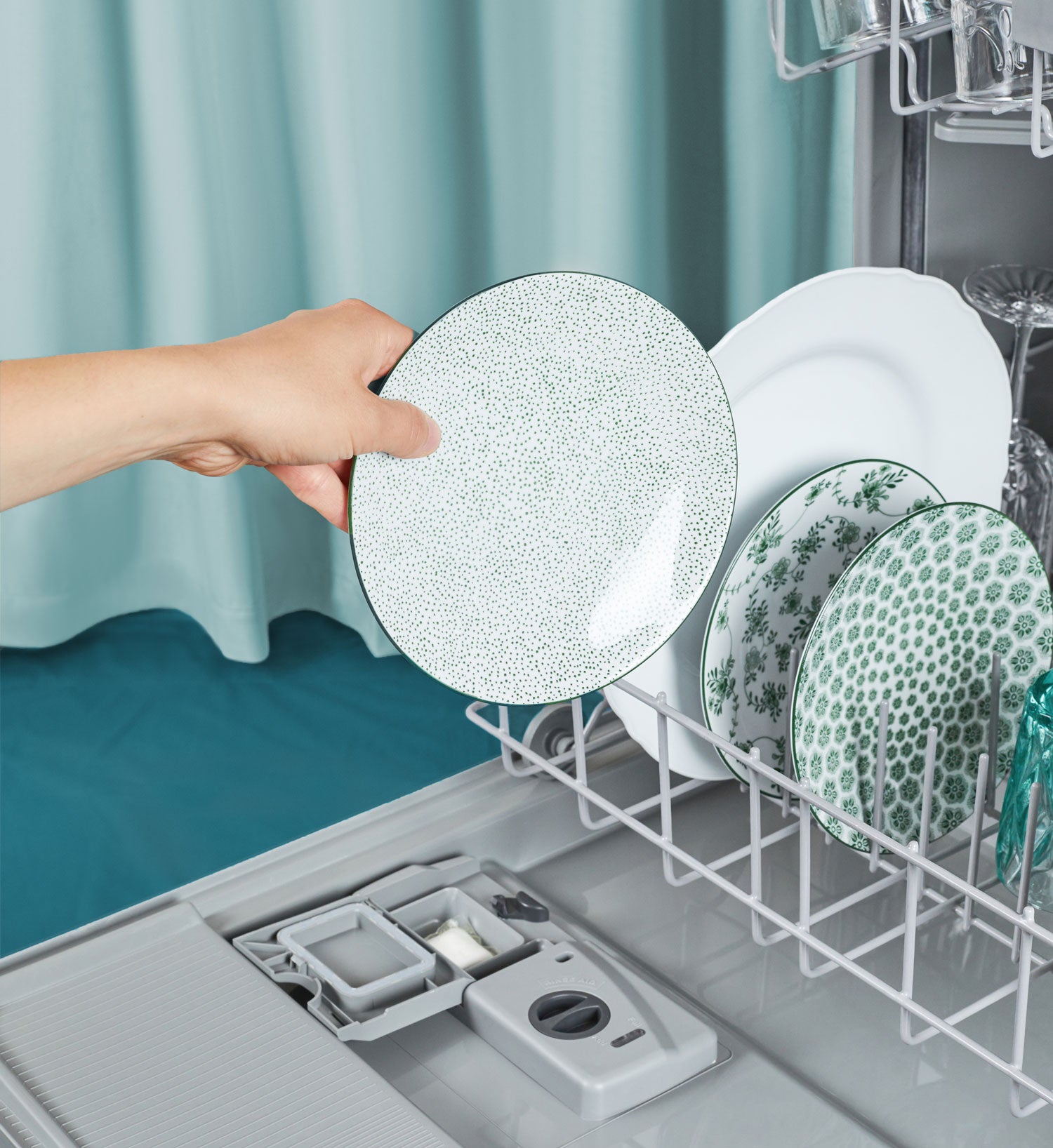 Proudly Made Without
For your health and the health of the planet, our products never contain:
Phosphates
Parabens
Sulphates
Carcinogens
Synthetic fragrances
Petroleum