Regular price
Sale price
$17.99
Unit price
per
Sale
Sold out
AspenClean environmentally friendly Laundry Pods with Eucalyptus and Rosemary essential oils have been voted best laundry pods by Parents' Magazine. These laundry detergent pods are packaged in plastic free container and are suitable for all water temperatures in standard and HE machines. They are hypoallergenic, vegan, and highly effective on dirt, grease, and grime - eliminating even the most stubborn clothing stains. Size: 396 g / 14 US fl oz (36 Pods)
Product features

Plastic-Free Detergent Pods with Eucalyptus and Rosemary

AspenClean Eucalyptus Laundry Pods are made of natural, biodegradable, plant and mineral-based ingredients that are both safe and effective in removing all kinds of laundry stains. The environmentally friendly laundry pods come in a zero-plastic, 100% recycled paper package that is designed for easy access while being entirely compostable. Infused with organic essential oils, oxygen bleach, and enzymes, our zero-plastic Laundry Detergent Pods with Eucalyptus and Rosemary treat tough stains while being color-safe and leaving a gentle, soothing scent. These plastic-free laundry detergent pods with eucalyptus and rosemary are highly powerful on dirt, grime, and grease but remain baby-safe, pet-safe, hypoallergenic, and contain absolutely NO synthetic fragrances, toxins, or irritants that are harmful to your health or skin. We also have a selection of eco-friendly laundry detergents available in liquid form.

• Suitable for all water temperatures in standard and HE machines 
• Baby-safe, pet-safe, and hypoallergenic 
• Biodegradable, plant-based ingredients 
• 100% zero-plastic, compostable packaging 
• Greywater & septic tank-safe 
• EcoCert® certified 
• EWG-Verified™ 
• Certified Cruelty-Free by Leaping Bunny 
• Vegan 
• Made in the USA
Directions for use

Environmentally Friendly Laundry Pods with Eucalyptus and Rosemary

1. Read the care tags on your laundry. 
2. Place one plastic-free laundry detergent pod with eucalyptus and rosemary directly into an HE or standard washing machine before adding clothes. 
3. For heavily soiled or larger loads of laundry, use two zero-plastic laundry detergent pods with eucalyptus and rosemary. 
4. Wash laundry with environmentally friendly laundry pods at any water temperature.

*Keep the container of plastic-free laundry pods with eucalyptus and rosemary closed when not in use. Store in a dry place, out of reach of children. Always be sure to dry your hands before handling septic-safe pods or the compostable container. Do not unwrap or puncture the environmentally friendly laundry detergent pods.
Ingredients

Zero-Plastic Laundry Detergent Pods with Eucalyptus and Rosemary

Ingredients: Sodium Carbonate; Sodium Citrate, Sodium Carbonate Peroxide; Sodium Sulfate; <5% Sodium Oleate (Vegetables derived), Sodium Chloride (Salt), Decyl Glucoside (Coconut, Palm Kernel Oil derived), Water/Eau, Protease (Enzyme), Hydrated Silica, Alpha-Amylase (Enzyme), Cocos Nucifera (Coconut) Oil**, Mannanase (Enzyme), Alcohol (Corn derived)**, Cellulase (Enzyme), Eucalyptus Globulus Oil**, Rosmarinus Officinalis (Rosemary) Oil**.

Film: Polyvinyl Alcohol Polymer (water-soluble, biodegradable)

- 100% Vegan 
- 99.9% of the total ingredients are from natural origin 
+ Plant-based ingredients are biodegradable
**0.9% of the total ingredients are from organic farming

Proudly made without:

• Plastics 
• Toxins 
• Irritants 
• Synthetic fragrances 
• Phosphates
Shipping & Returns

Free shipping on all orders over $70.
Unused and unopened products can be returned within 30 days of purchase for a full refund (shipping charges excluded). Contact us before returning the products.
View full details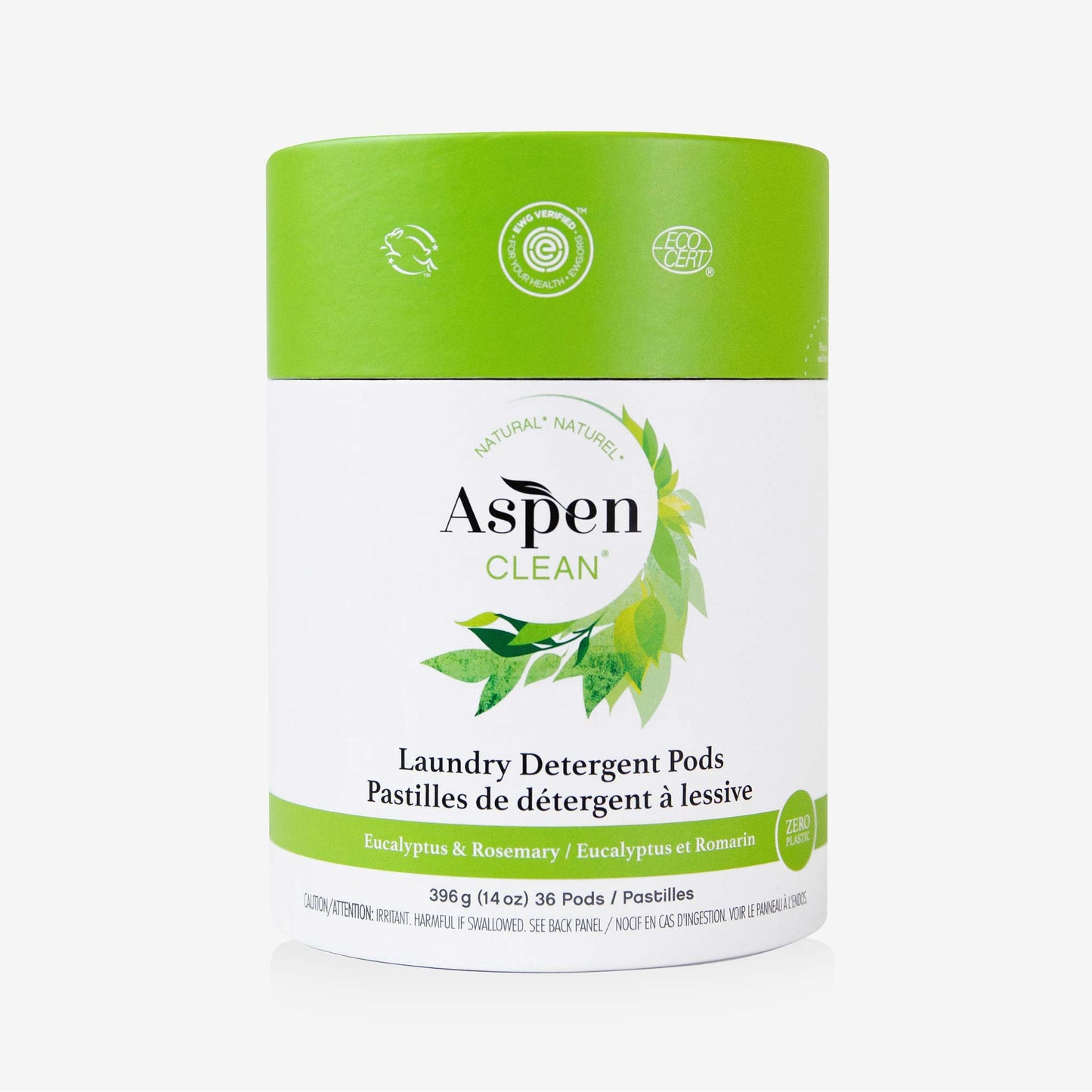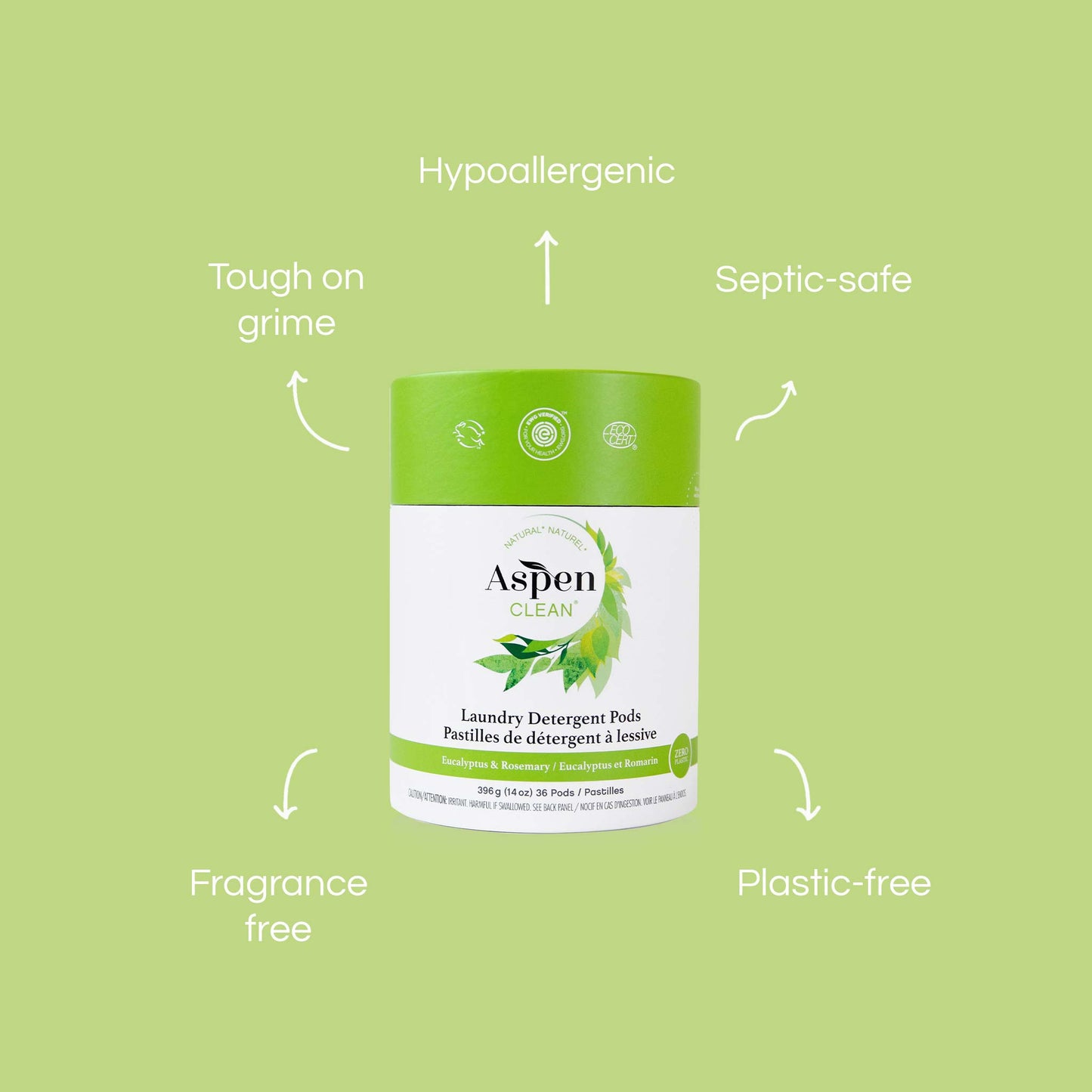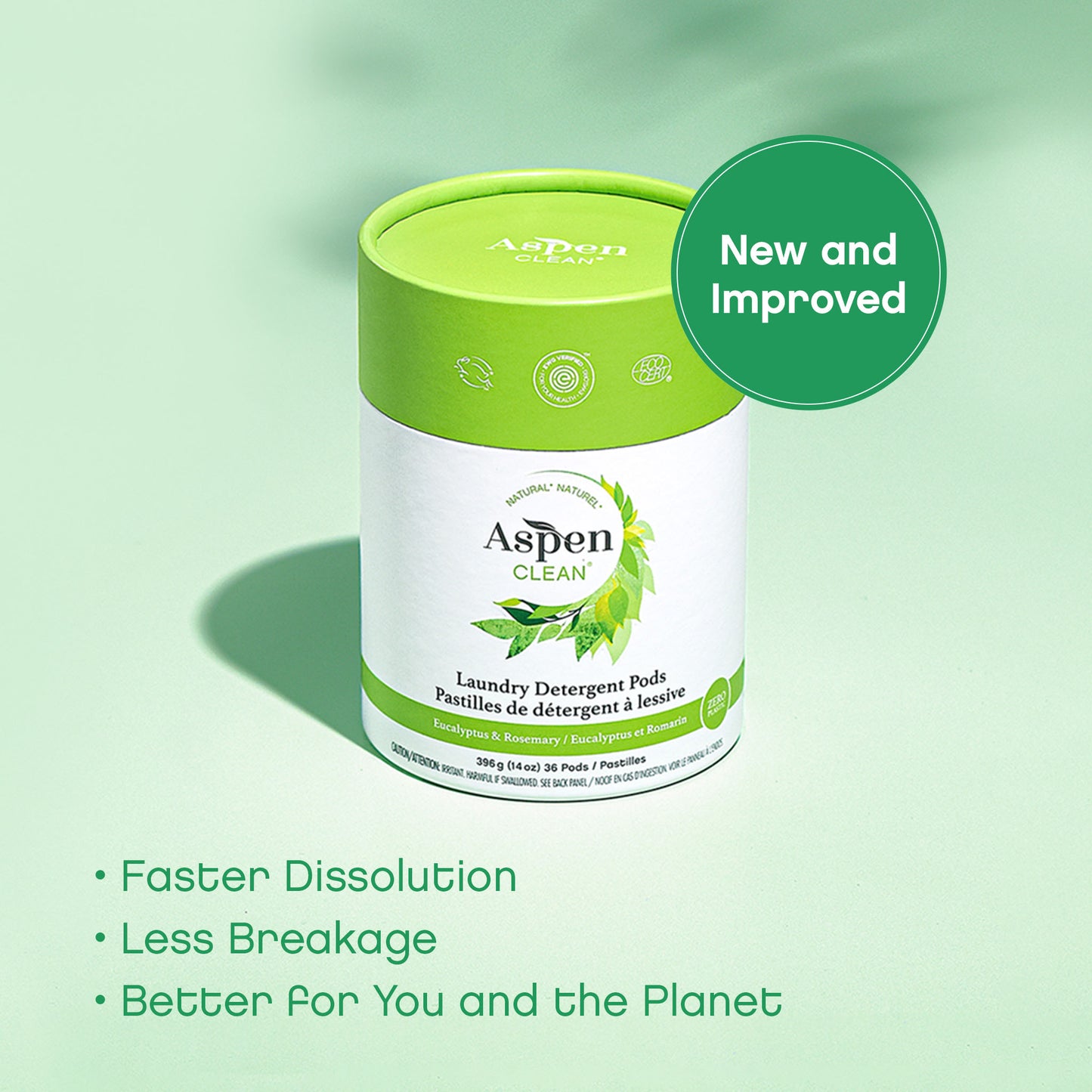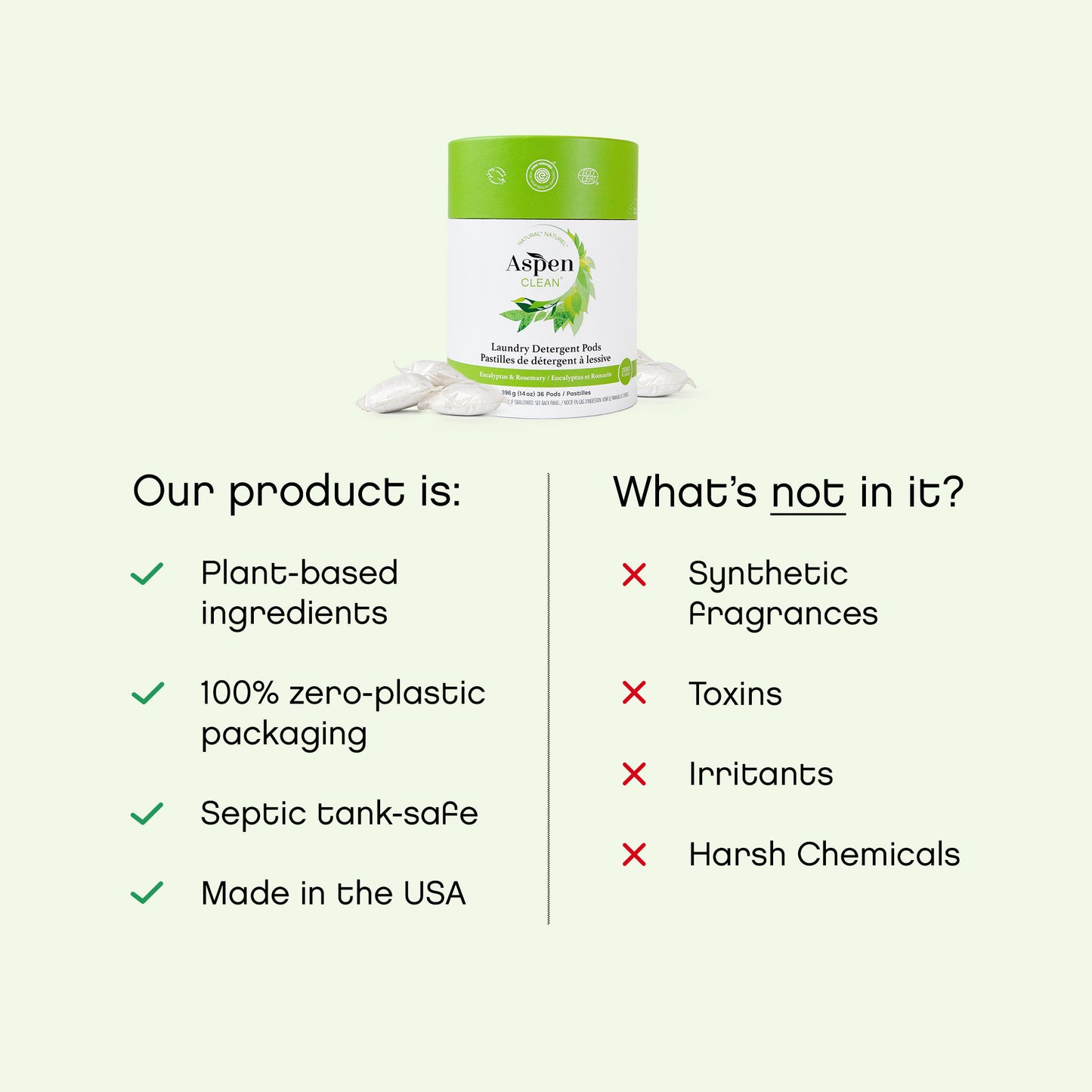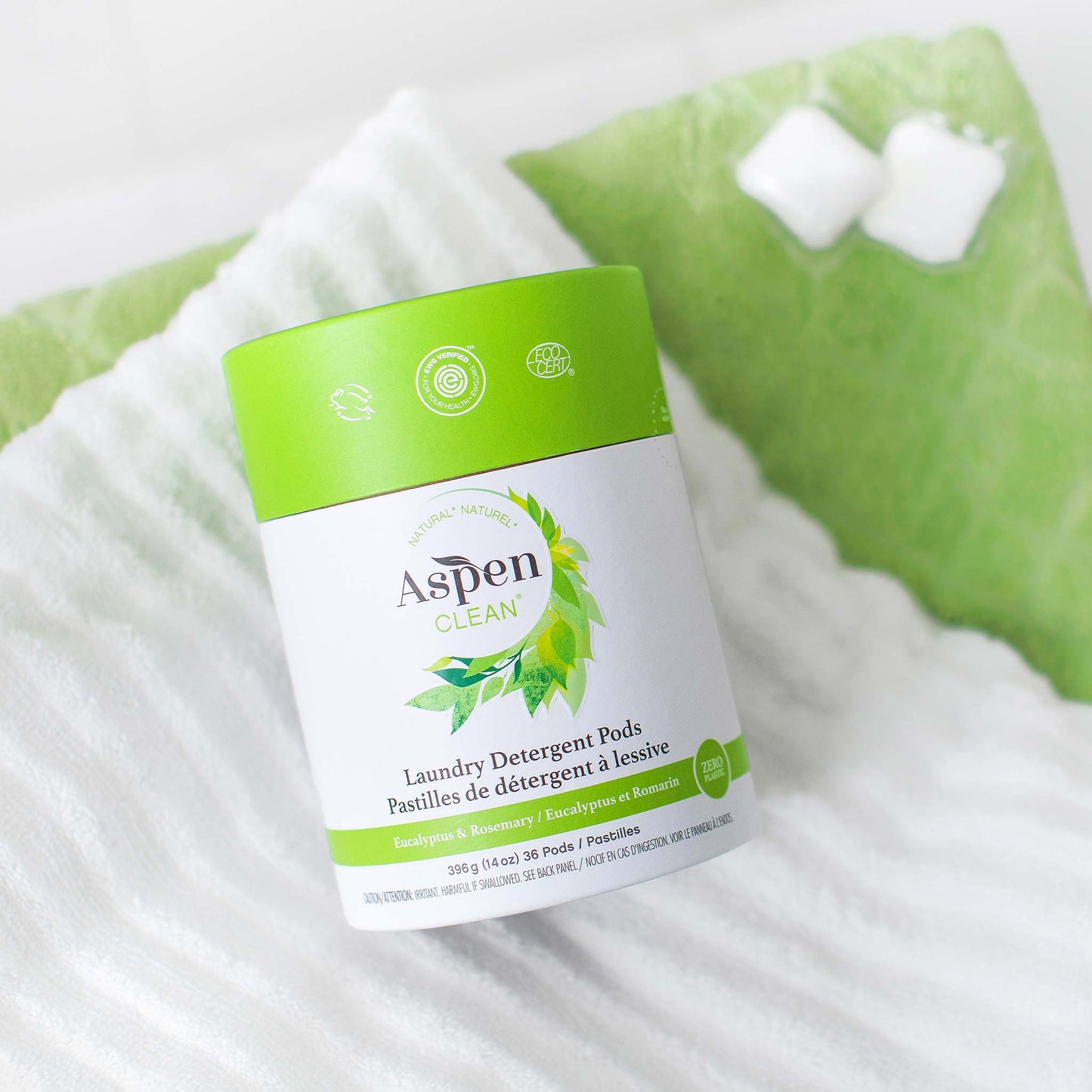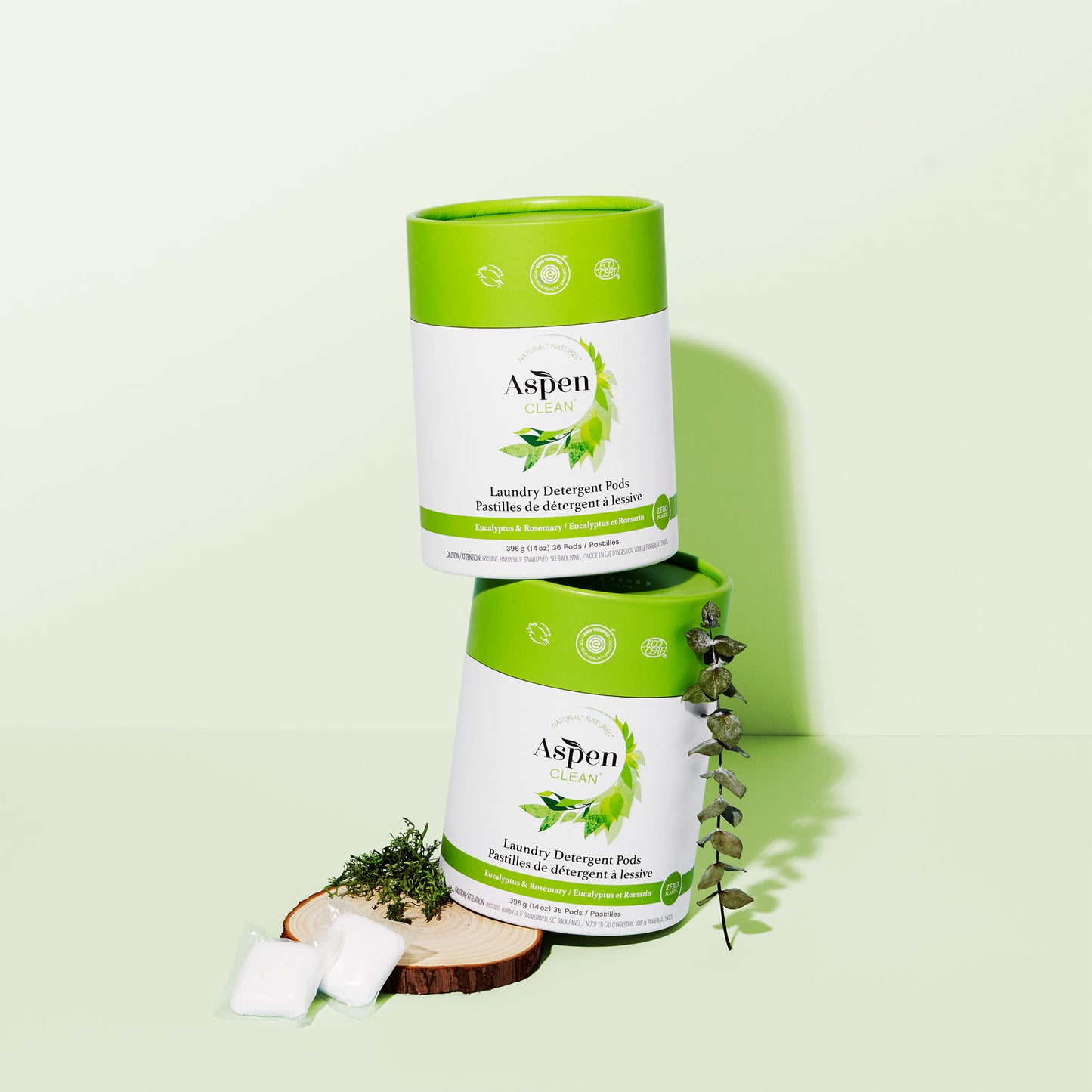 Rethink Clean
POWERFUL & EFFECTIVE

Our products work and deliver the same results as conventional products.

NON-TOXIC & SAFE

Always chemical-free and made with organic, hypoallergenic, and plant-based ingredients.

PLANET FRIENDLY

Biodegradable, recyclable and plastic-free packaging for a better planet.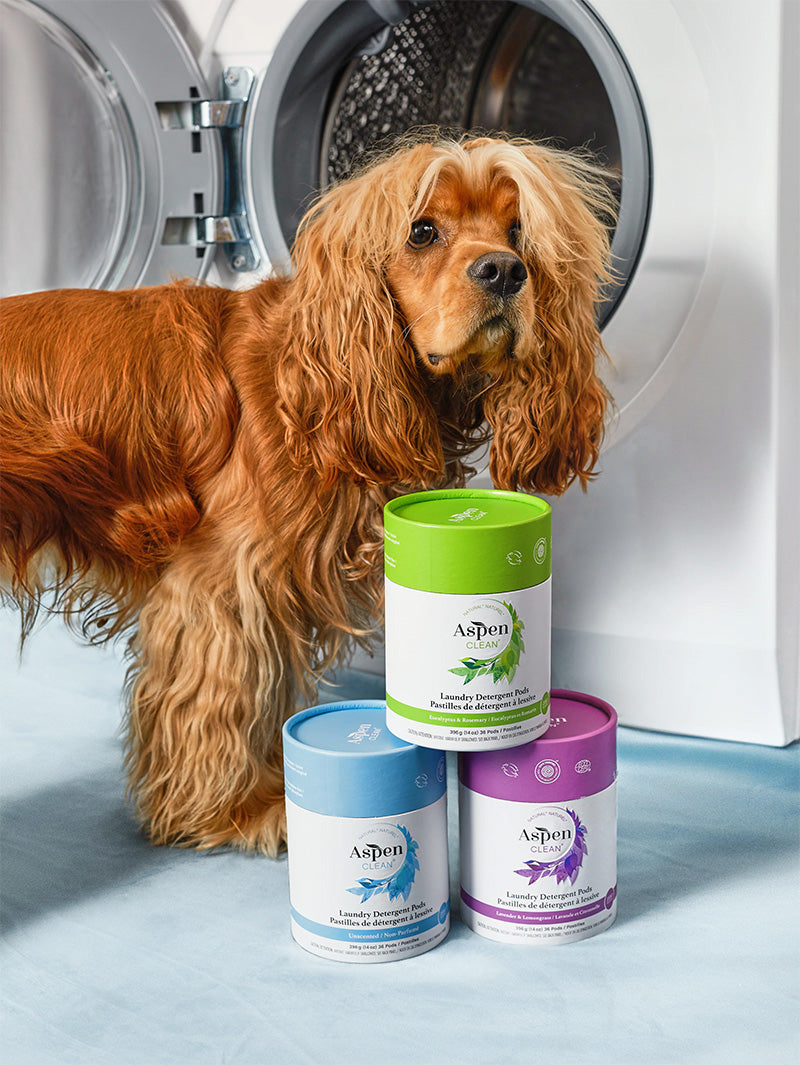 Proudly Made Without
For your health and the health of the planet, our products never contain:
Phosphates
Parabens
Sulphates
Carcinogens
Synthetic fragrances
Petroleum